Manual – Poker Bankroll Tracker App
Table of content
Home
The home screen shows your last session and, if you signed up and connect with friends, the sessions of your friends of the last 7 days. Click on your friends latest sessions to see the details and notes.
The "Current Month / Last Month" box shows you an overview of the current and the last month. The "3-Month-Trend" shows only your self played cash games or tournaments of the last three month. It doesn't include stakings, withdrawals, expenses, jackpot winnings or casino games. It's just the net profit of self played poker sessions.
Bankroll
Bankroll > Add
To add a session to the bankroll, fill out the form and click on save. If you want to enter a withdrawal, select "Deposit/Payout" as type.
There is not realy a location database, the location drop-down list is just a listing of all places where you have already entered sessions. To add a new location, just enter a session with the new location. To remove a location from the drop-down list, you have to delete all sessions with this location name. On the SETTINGS > EDIT page, you can hide entries from the drop-down list or change location names.
If you sold shares choose "I played by myself and sold shares". At "shares income" you enter the income that you receive by selling shares. At "shares outgoings" you enter the money that you pay out to your shareholders in case of a win. For example: You sell 50% shares from a $100 tournament. You made it to the money and cash out $400. In this case you have to insert buy in = $100, cash out = $400, shares income = $50 (50% of the buy in), shares outgoings = $200 (50% of the cash out).
If you staked someone choose "I staked someone else" from the staking dropdown. Insert the players buy in and cash out and your buyin and cash out. For example: You staked someone who played a $100 tournament and you bought 50% on his action. The player made it to the money and cashed out $400. In this case you have to insert buy in = $100, cash out = $400, your investment = $50 (50% of his buy in), your cashout = $200 (50% of his cash out).
Bankroll > Overview
The first box "Profit" shows your total buy in, cash out, gross and net profit.
The "Sessions" box shows the session details like playing time, ROI, $/hour and $/100 hands. Sometimes the total playing time is smaller than the cash game playing time + the tournament playing time. That's because the app considers multitabling, here is an example: When you add a cash game session from 5pm to 10pm and a tournament from 6pm to 8pm at the same day, you played 5 hours cash game and 2 hours tournament. Is it 7 hours in total or just 5? On this day you played poker from 5pm to 10pm which is 5 hours in total. From 6pm to 8pm you played two tables at the same time (multitabling) but this doesn't effect your overall playing time. The bankroll overview will show 5 hours cash game, 2 hours tournament and 5 hours playing time total which is correct.
The box "Cash Game" contains BB/hour and BB/100 (BB = Big Blinds) hands and shows also the standard deviation (SD) value. The SD is explained in the Variance section.
The "Tournament" box shows your results in STTs and MTTs. A final table will be scored if more than 11 players participated and you are placed in the top 9.
The "Current month / Last month" and "3-Month-Trend" boxes are explained in the Home section.
With the "True performance" switch you can disable all expenses, withdrawals, shares, stakings etc. to show your true game performance.
Bankroll > Session
Click on a session to see the details or tap and hold it to edit or delete a session.
Bankroll > Locations
Shows all location where you have played. Long-press on a location to setup a location filter.
Bankroll > Graph
Above the graph is a drop down menu where you can choose the different graph types.
Bankroll > Variance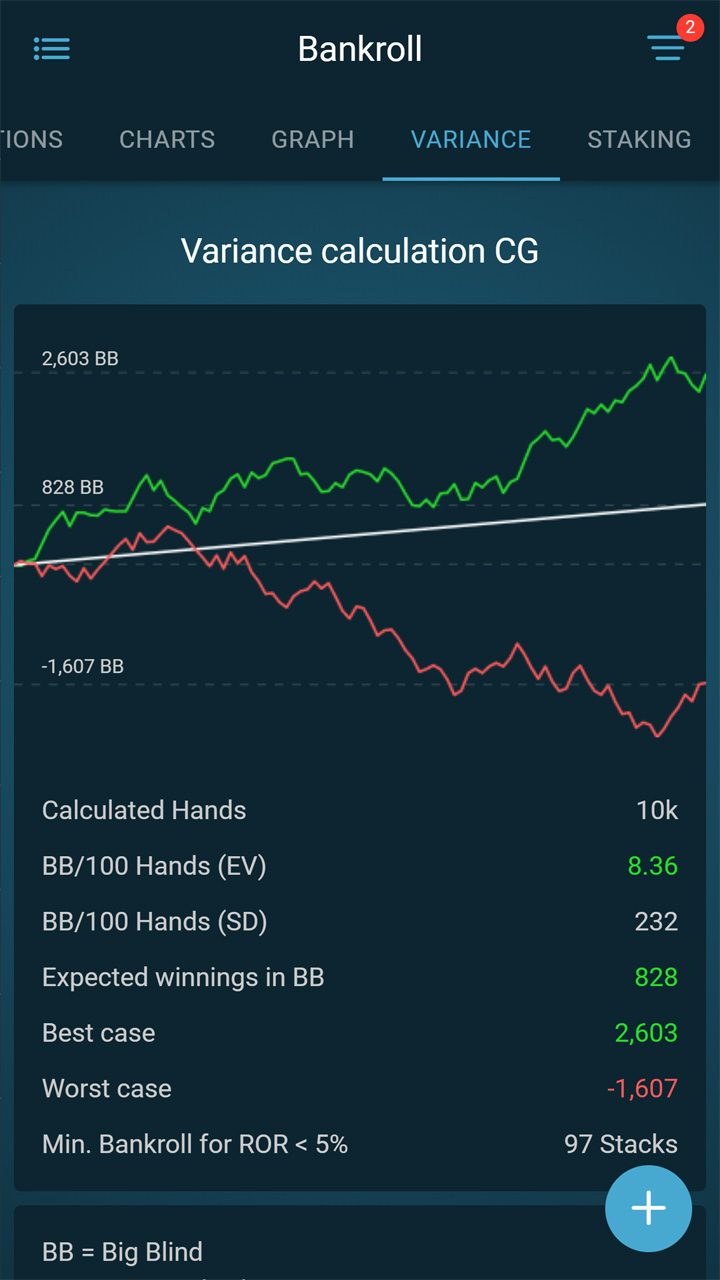 The variance calculator tells you the expected variance based on your last cash game sessions. The white line shows your expected value (EV) in bb per 100 hands. The app takes your EV, your standard deviation (SD) and calculates 20 cases and keep the best and the worst case.
The SD is an indicator how swingy your play is. For example: A supermarket sells nuts at 1000 per pack and you have bought 5 packs. You open the packs and count the nuts. 1st pack contains 1005 nuts = +5, 2nd is 998 = -2, 3rd is -4, 4th is +3 and the 5th is +1. The deviations are 5, 2, 4, 3, 1 and it doesn't matter if it's plus or minus. The standard deviation is (5+2+4+3+1)/5 = 3. If you buy a pack of nuts, you have to expect a deviation of 3 nuts per pack. If you have a winrate of +10bb per 100 hands and a SD of 20bb you have to expect a result between -10bb to +30bb per 100 hands for your next sessions.
The minimum bankroll for the calculation on the screenshot should be 17 Stacks (1 Stack = 100 big blinds) to keep the risk of ruin under 5%.
You want more information how a variance calculator works? Check out this website: http://www.pokerdope.com/poker-variance-calculator/
Bankroll > Charts
Shows the results in days, months and years.
Bankroll > Staking
An overview of the players you have staked.
Bankroll > Edit
Choose the option you want to mass edit and enter the new value. For example if you have two locations "Rio Vegas" and "Rio Las Vegas" and you want to merge it into one, choose "Location" > "Rio Vegas" and at the "becomes" section choose "Rio Las Vegas". All sessions with the location "Rio Vegas" will be changed to "Rio Las Vegas".
Live Session
Live Session > Start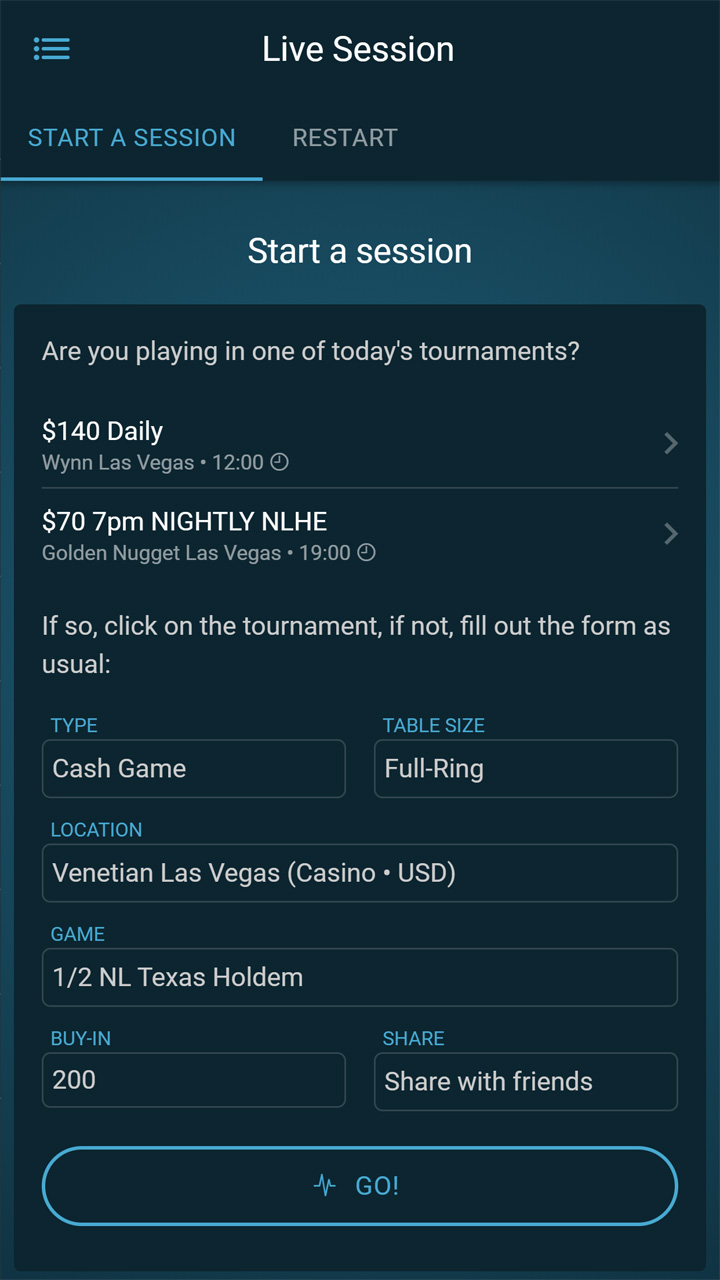 Choose the game and the location and start a live session when you start playing poker. If you are logged in and connected with friends, they can follow your session on their home screen.
If you allow PBT to use your location, you'll see all of today's tournaments that take place near you. If you want to play the tournament, click on the blue arrow next to the tournament name to start the session. The tournament data will be automatically insert to your session details. If the tournaments from your home casino are not in our calendar, you are welcome to insert them.
If you allow PBT to send notifications, you will see a message in your notification bar after starting a session. It shows the current stack, the the time of the last update and a random number. Sometimes you need to make decisions based on GTO, e.g. you call a bet 90% and fold 10% of the time. So you can use the randomizer to make this decision. To get a fresh random number, click on the notification or on the "update" button in your live session.
Live Session > Paused
Here you find your paused sessions. Choose one to restart it.
Live Session > Restart
Select a session that has already ended to restart it.
Live Session > Session (available during a live session)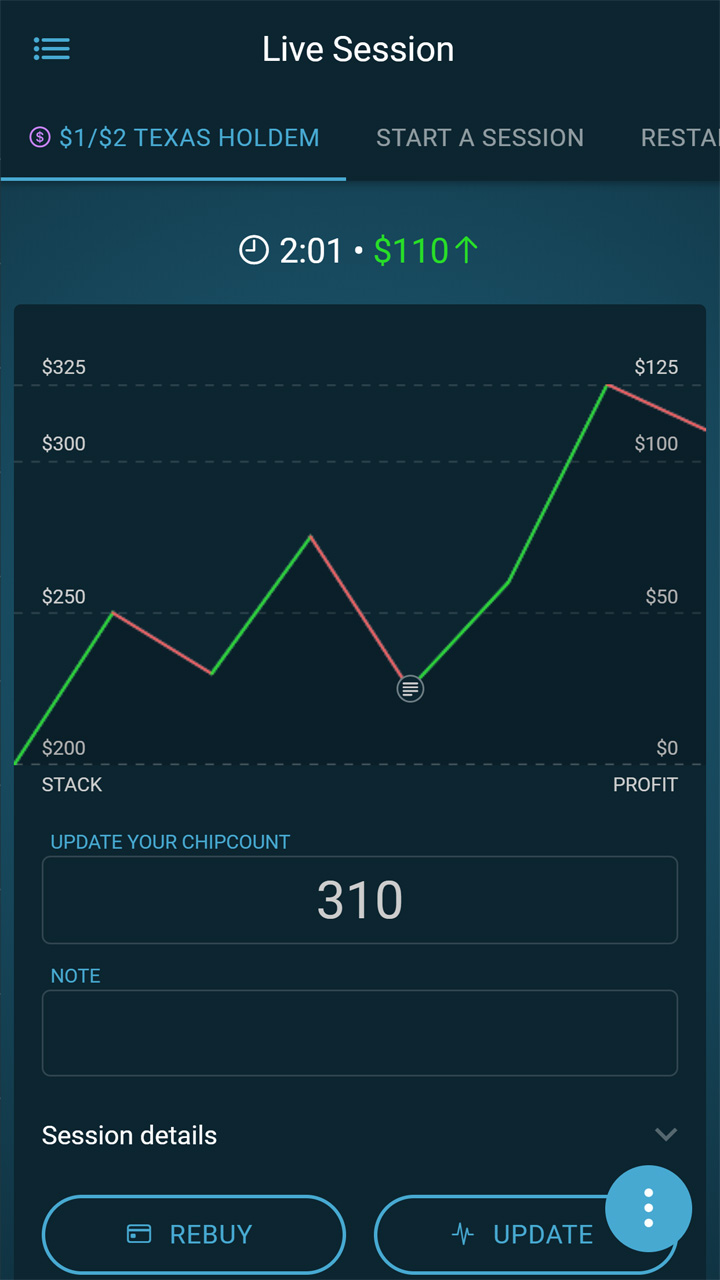 Update your chipcount from time to time to record the trend of your stack. You can also add notes to the graph. If you want to delete your last chipcount update, click on the "back arrow" on the top right of the trend box. To edit a note or the chipcount, just press and hold the note.
To take a rebuy or an add-on click on the "+" symbol on the top of the page and insert your new chipcount and the costs. After you took a rebuy in a cash game you will see a second line on your trend. The green/red line still shows your chipcount and the new blue line shows your current profit. The numbers of your chipcount are on the left and the profit are on the right side.
To edit the session details click on "show more". The cash out field is automatically set by your chipcount, but of course you can also enter another amount.
If you're playing a multi day tournament and a day is finished, just click on pause and resume the session on the next day.
Live Session > Info (available during a tournament live session)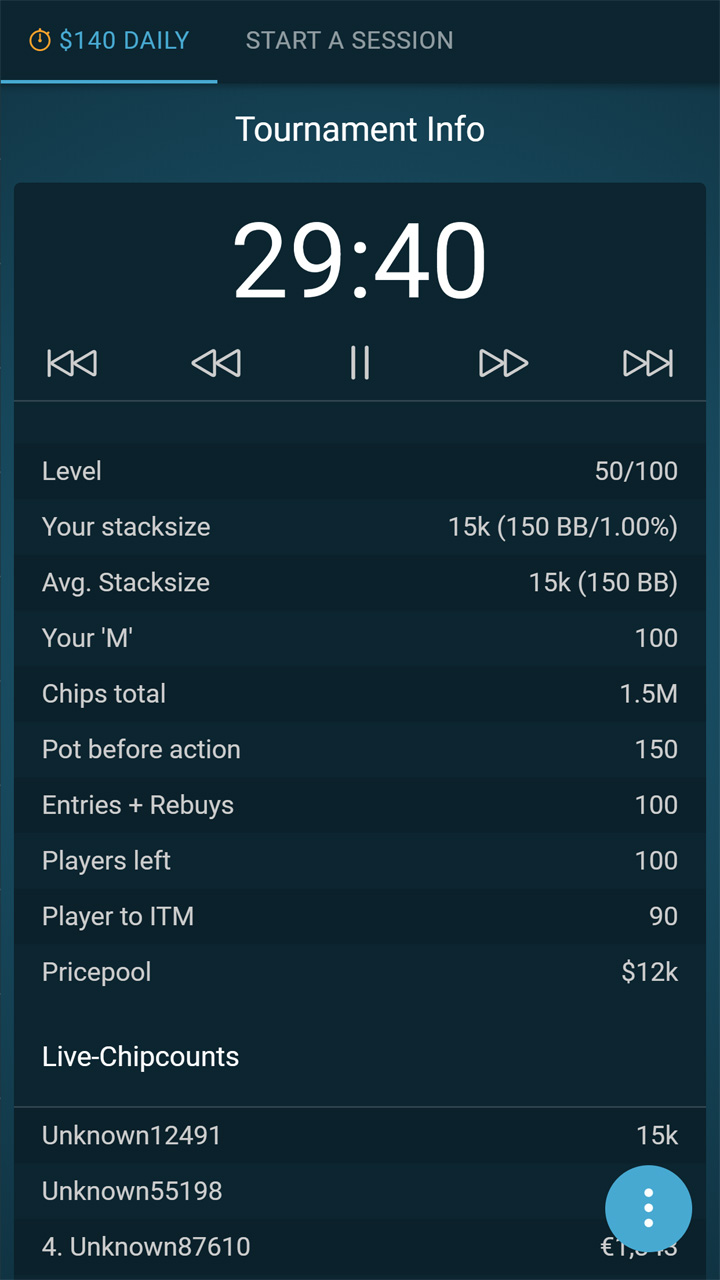 When you start a tournament live session, you will see the tournament informations on this screen. It shows important values like your stack in big blinds, how much chips do you have total, the average chipcount, your "M", potsize before an action or the calculated pricepool. The data are calculated from your session details so you have to keep it up to date.
When you started a tournament from the calendar and the tournament contains a timetable, you will see a clock with the current level time. You can use the arrow buttons to switch to the next or previous level or you can click on the clock to synchronise it with the real tournament clock.
Casinos
Casinos > Tournaments & CG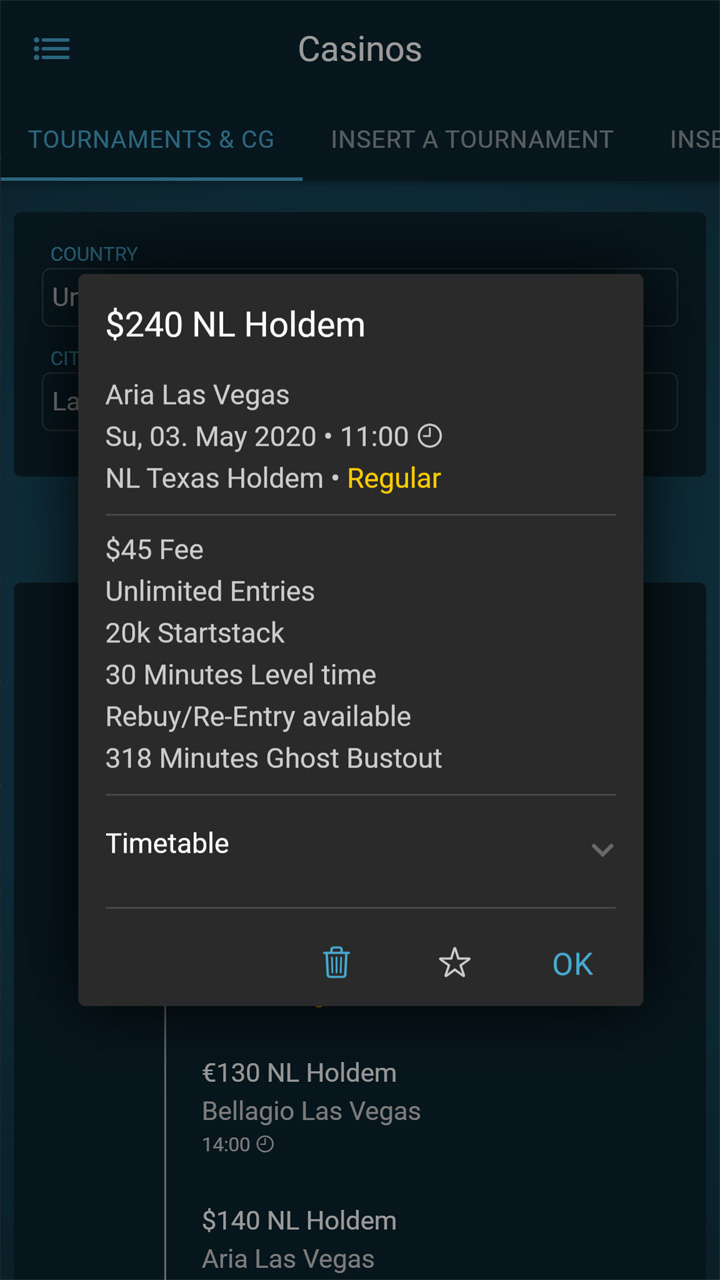 Choose your current country and check out the upcoming tournaments. You get more information by clicking on a tournament.
If the tournament details contains a blinds timetable, the app will calculate the "Ghost bustout" time. In the tournament on the screenshot you will bust out after 318 minutes when you don't play a hand, when you only pay the blinds and ante every orbit. The "Ghost bustout" time is a good indicator to show how deep or how fast a tournament structure is.
Casinos > Insert
Every registered user can insert casinos and tournaments. Please just add public tournaments from real casinos, no home games.
Hand Replayer
Hand Replayer > Add a hand
Insert the community cards, the stacks and hole cards of the active players and record the acion. If you insert a bet (or raise) you need to insert the amount and click on the bet button again. After you have insert the action, click on save hand. If you record a hand with a known player from your notes list, the statistics will be added to his profile.
Hand Replayer > Recorded hands
Here you see your recorded replays, click on a hand to show more options.
If you are playing a live session, you can add a replay to the note by clicking "add to live session". You will asked to upload the replay to our server and you have to do it if you want to share the replay with your friends. When you delete a replay without uploading it before, there will be no way to watch the replay again.
You can also just share the hand with your friends by clicking on "Share". The replay will be uploaded to our server and you can send the link to your friends. They can watch the replay directly on our website without having the app installed. Here is an example.
If you just want to watch the hand again, click on "Replay".
Player Notes & Stats
Player Notes & Stats > Player notes
Insert a name and a note and click on save to add your first player note. If you already have some player notes you need to click on the "+" symbol on the top right to add a new player. To read or edit a note, click on an existing player.
Player Notes & Stats > Stats tracker
Place some players on the table and record the action. You can't insert cards or betting ammounts, just the action. After a few hands you will see important player stats (like "VPIP", "PFR", "3BET") by clicking on one of the players.
Calculator
Calculator > Odds calculator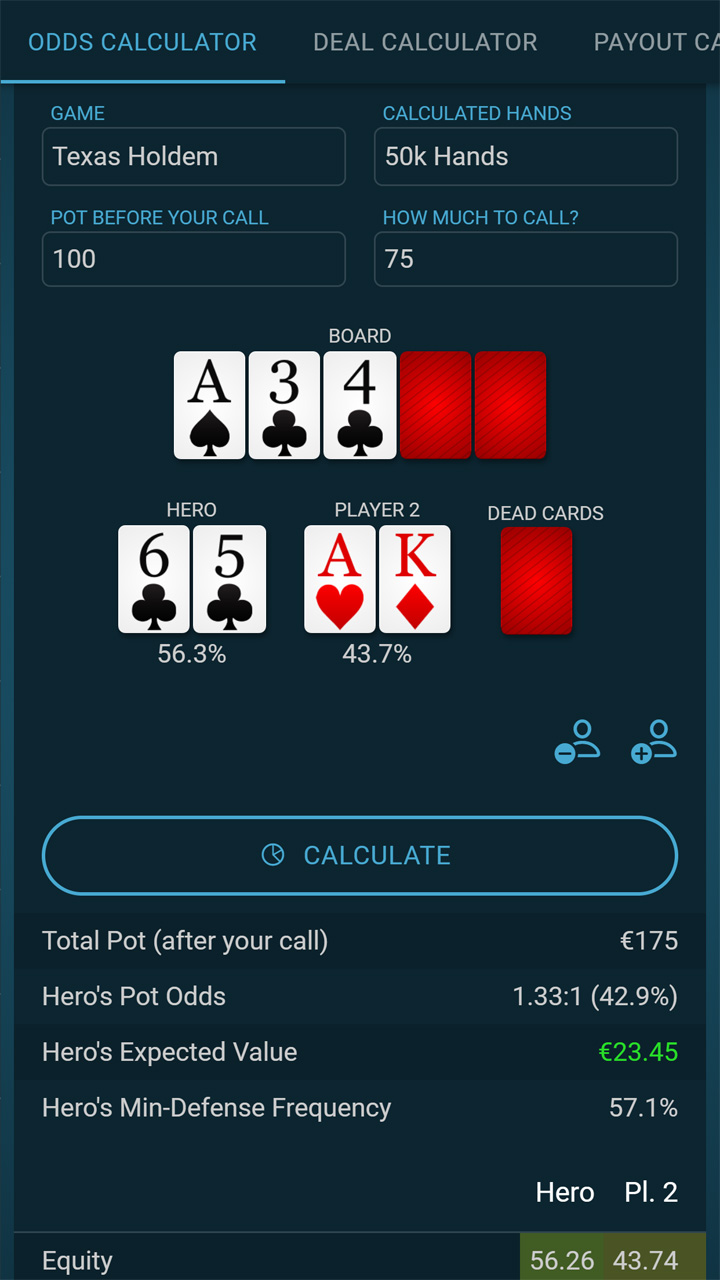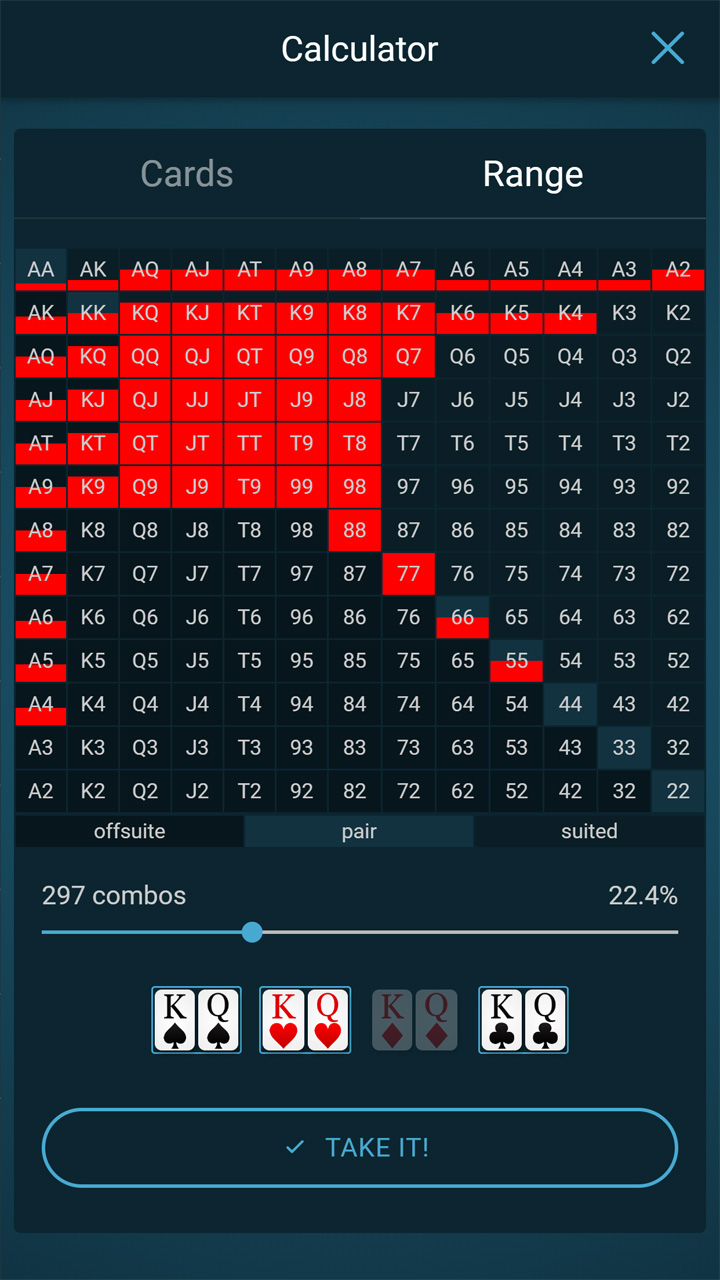 Choose the game details, community cards and hole cards and click on calculate to see the odds. The app calculates between 10k and 250k hands and shows the result. The more hands you calculate, the more accurate will be the result.
If you want to know the expected value (EV) of a situation, you can insert the potsize and the ammount to call. In this case on the first screenshot we have a flush draw against top set and we have to call a bet of $50 to win a pot of $100 (without our call). The app will show you the total pot after we made the call, our pot odds, our EV and our minimum defense frequency (MDF). The MDF describes the portion of our range that we must continue with when facing a bet in order to remain unexploitable by bluffs.
If you want to give a player a range, click on the player cards and choose range. You can use the slider to adjust the range. When you click on a combo like "A5" you will see all included combos on the bottom of the page. Here you can unselect specific combos.
Calculator > Deal calculator
When you play a tournament and you want to calculate a deal between the last remaining players, insert the stacksizes and the payouts. The calculator shows the ICM and the Chip-Chop resluts.
Calculator > Payout calculator
Insert a pricepool and how many players are ITM and the calculator shows a 15% payout structure. The structure is similar to that of the WSOP.
Friends
Friends > Leaderboard (available when you are logged in)
The Leaderboard shows the number of session, profit, and ROI of the last 3 months. Only friends who played at least 5 sessions and who show their 3-Month-Trend will be shown.
Friends > Connections (available when you are logged in)
Here you will find your friends list. Choose who you want to follow and who can follow your session. Approved friends can see your session of the last 7 days on their home screens. To unconnet, tap and hold a name.
Friends > Search
Search for friends to connect with them.
Account
Account > Pro version
Here you can see the benefits of the Pro version and subscribe or check your pro status.
Account > Sign in
Sign in to your PBT account.
Account > Sign up
Sign up! Only registered users can connect with friends, backup their data on the server, insert tournaments to the public calendar and many more.
Account > Account data (available when you are logged in)
Here you can change your nick name, e-mail or password.
Account > Backup
It is very important to make regular backups. We highly recommend to use the Auto-backup feature (turn it on in the Settings section). Most users don't know that their bankroll is not saved on our server be default. If you lost your phone and you have never made a backup, your data is also lost. You have to make backups! Click on "Backup to server" or "Backup to CSV" to backup your current bankroll.
Account > Sign out (available when you are logged in)
Why you should sign out?
Settings
Settings > Settings
Choose your settings. If you like to start with a specific bankroll amount, setup a "Startup capital". The "Hands/Hour" is the default value for the average of hands you get dealt per hour and it affects the bb/100 hands cash game value. The default hands/hour for live games is 25 and for online games 75.
We highly recommend to switch on the Auto-backup feature to prevent data loss. Most users don't know that their bankroll is not saved on our server be default. If you lost your phone and you have never made a backup, your data is also lost.
Settings > Bug report
If you found a bug please let us know.
Settings > About PBT
Informations about the Poker Bankroll Tracker.