All-in-one Poker Tracker • Hand Replayer • Odds/Deal Calc. • Tournament Calendar
"A poker results tracker is an essential tool for live players, and you won't find a better option in this category than Poker Bankroll Tracker."
upswingpoker.com
Download for free in English, Spanish, German, French, Russian, Portuguese, Czech and Chinese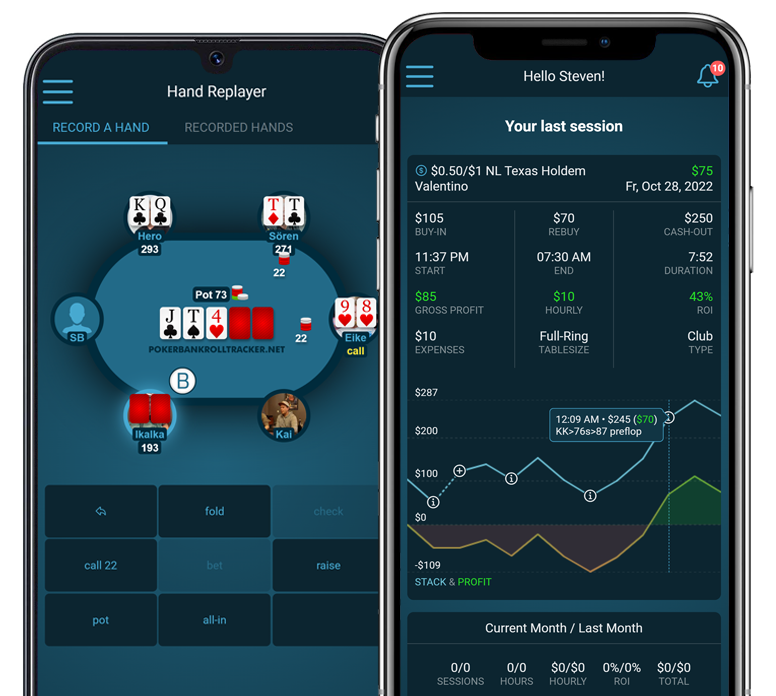 Next level Poker Tracker
Record live or online sessions and share them with your friends! With Poker Bankroll Tracker you can save your poker sessions to have an overview of your bankroll. With many filter options you can find leaks in your game and see a lot of statistics.
You can also connect with your friends and watch their sessions live! Poker Bankroll Tracker provides useful tools like a hand replayer, odds calculator, deal calculator or a payout calculator.
Main features:
Available for free in English, Spanish, German, French, Russian, Portuguese and Czech.
Connect with your friends and watch their sessions live.
Track your live sessions and visualize your chip graph and many more statistics.
Track hands with the hand replayer and share them with friends or in poker forums.
Track hands to get player statistics like PFR, VPIP, 3BetPF, etc.
Export/Import your data as CSV.
Calculate Holdem & Omaha odds with the odds calculator.
Calculate final table deals using the ICM & Chip-Chop calculator.
Calculate tournament payouts with the payout calculator.
Variance calculation.
Keep an eye on your additional costs like hotels or tippings.
Write notes about players.
A lot of filters such as Type of Game, Limit, Buyin, Blinds, Location and many more.
Public tournament calendar.
40 different currencies like Dollar, Euro, Pound with daily exchange rates for traveling poker players.
You can use the Poker Bankroll Tracker offline without registering an account.
If you don't like the Poker Bankroll Tracker anymore, it's easy to delete all your cloud data.
Stats, stats, stats!
Whether you play Texas Holdem, Omaha, Razz or any other game, Poker Bankroll Tracker gives you the perfect overview.
In addition to your poker winnings, you can also enter additional costs, tips, payouts or jackpot winnings.
Many filter options allow you to find the leaks in your game.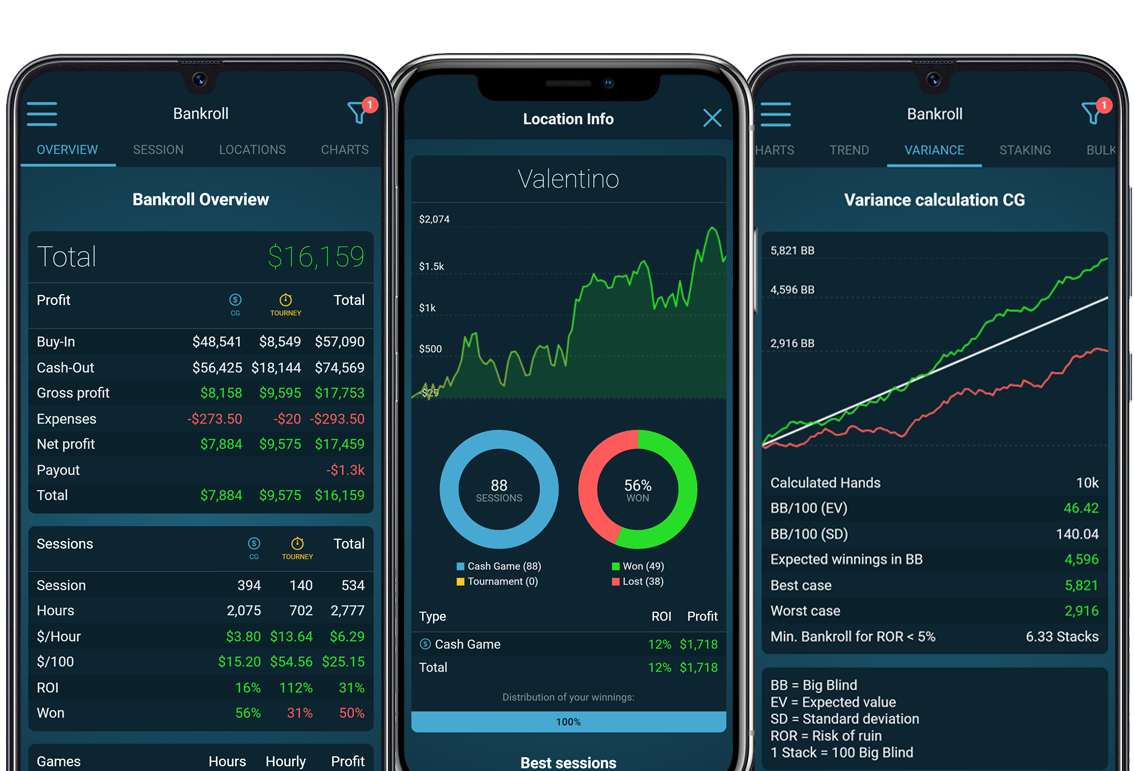 Play live and share your session with friends!
Do you know that? You play a live tournament and your friends are always asking how much chips you have. With Poker Bankroll Tracker you can connect with your friends. When you start a live session, your friends see all the relevant data of your session on their home screen.
You can focus on the tournament and ship it!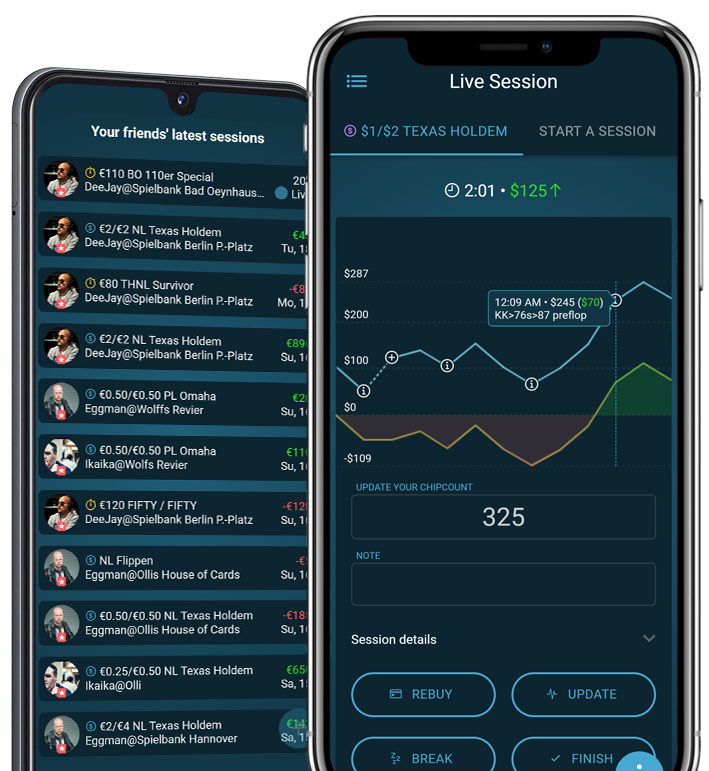 Hand replayer, Odds calculator, Deal calculator, Variance calculation and more tools!
Poker Bankroll Tracker comes with a lot of useful tools, all for free! Record hands with the replayer and share it with friends (example).
Calculate ICM or Chip-Chop deals, or use our odds calculator to check the EV of a situation. You can also calculate a specific hand vs a range of hands.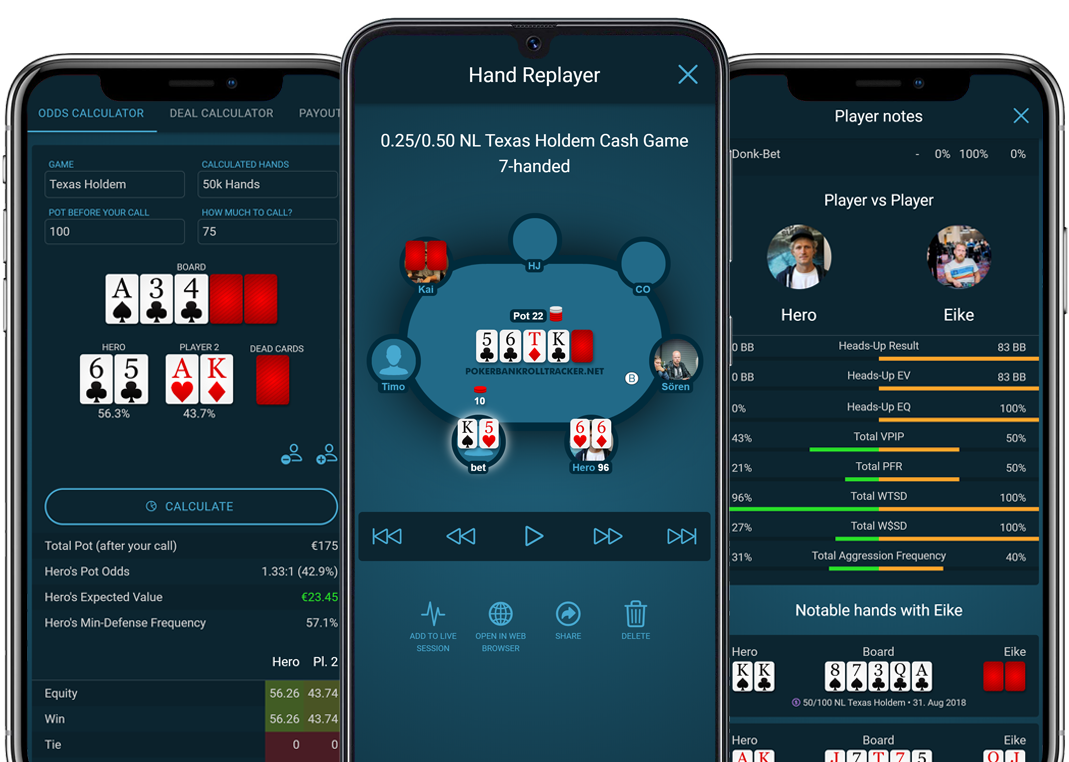 Well-known users of the Poker Bankroll Tracker
Matt Berkey – Professional Poker Player & Coach – solveforwhy.io
Sofia Lövgren – Professional Poker Player – @sofialvn
Jeff Boski – Las Vegas Poker Vloger & Poker Coach – jeffboski.com
Ivo Donev – Chessmaster, WSOP-Bracelet winner & Poker Coach – ivodonev.com
Video Tutorial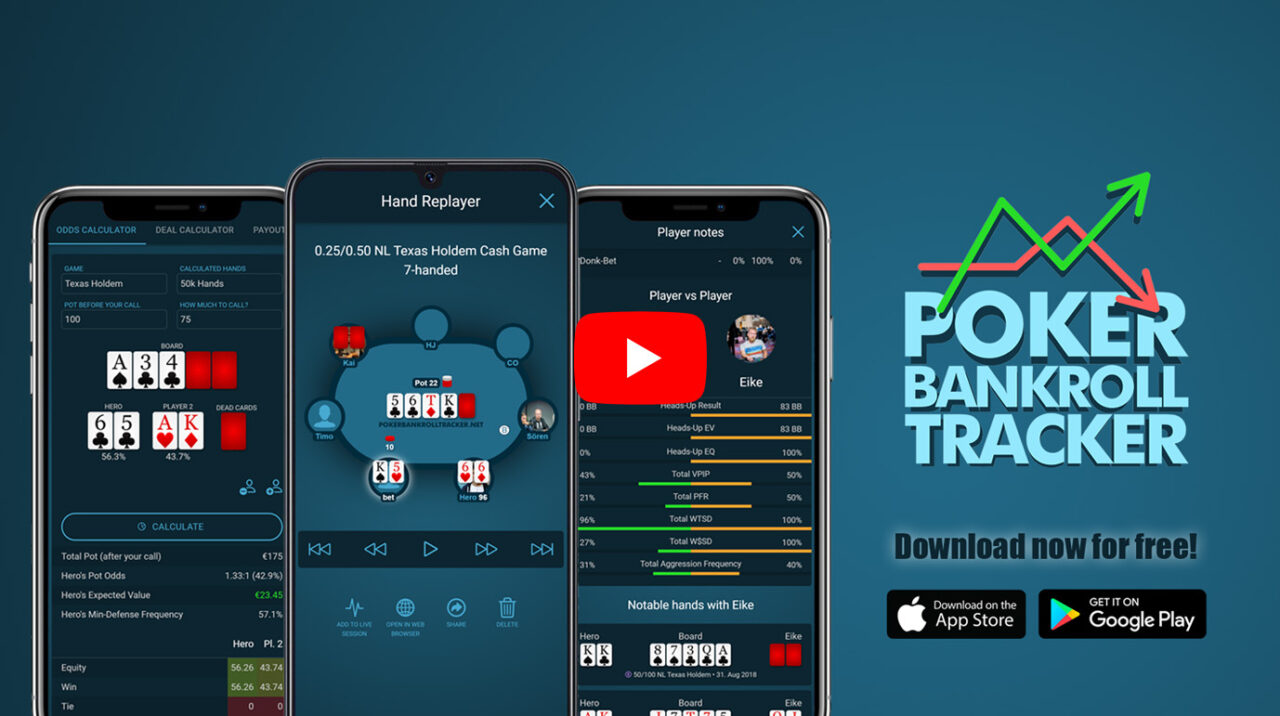 Scan to download